Pedestrian Safety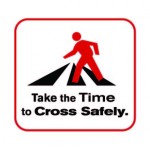 Who is a pedestrian?  Any person on foot or in a wheelchair (see Section 130 of the New York State Vehicle & Traffic Law). Even if you drive to work, you're a pedestrian the moment you leave your car
As a Pedestrian:
Always cross at a crosswalk or corner.
Look LEFT-RIGHT-LEFT before crossing.
Always walk on a sidewalk.  If there is no sidewalk, always walk on the side of the road FACING traffic.
Obey all traffic signs and signals.
Be seen – wear bright or light colored clothing and reflective materials, carry a flashlight at night.
 Mount a safety flag on a wheelchair, motorized cart or stroller for visibility.
As a motorist:
Be alert – scan the road for pedestrians.
Be extra cautious when driving near children or older pedestrians that may not see or hear you.
Yield to pedestrians in crosswalks and when turning at intersections
Obey the speed limit
Web Sites with Additional Information on Pedestrian Safety